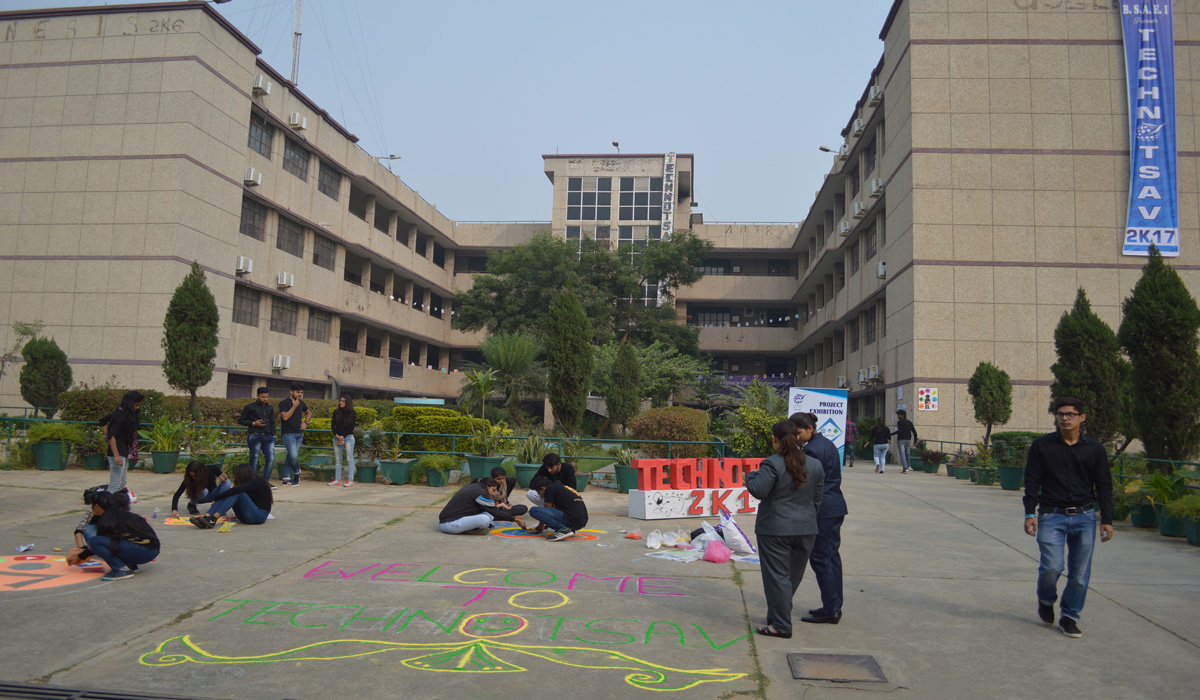 "Technology is best when it brings people together." 
The TECNOTSAV 2017, Technical Symposium 2017 was organized by Department of Computer Science and Engineering on 16th Nov 2017.General chair Person: Dr. A.K. Sharma, Program Chair Person: Dr. Pawan Bhadana and Program Coordinators: Ms. Ranjna Jain and Ms. Neha Bansal made the occasion more auspicious. The fest was the vibrant event to showcase the incredible talents, nurture the creativity and personality of our undergraduates. Technical fest lets the students flaunt their technical skills at the pole position in the competitive environments. It was an exciting array of nerve-wrecking events such as coding, gaming, exhibitions and many more, designed to bring out the best of the abilities of the budding engineers. Spotlighting every thinker, innovator and creator Technotsav'17 was the perfect meal for everyone. Students participated and were technically entertained by Tech-feed, Success Ladder, Blind Coding, Code Master, Web designing, Tech-Roadies, and Tech-Rangoli.
Besides a smooth sailing, a perfect start is a must. One such perfect start is our Orientation Program.
"Don't just survive but thrive."
The second Orientation Program conducted by Department of Computer Science and Engineering on 17th Aug 2017 aimed at the academic, co-curricular and social life of our CSE family including students and staff, counselors and leaders with the motivation trigger that emphasized – Don't just survive but thrive. The smile and warm welcome of Ms. Neha Bansal initiated the program by addressing the students, staff, honorable Dr. A.K. Sharma and by inviting Dr.Pawan Bhadana to represent the department and to encourage the students with an assurance and advice "Don't be ordinary, Be extraordinary." After his departing with a blessing of good future, Ms.Neha Bansal requested the faculty for a skillful and proficient presentation for a discussion over each and every aspect and scopes of the subjects under the syllabus along with some value-added courses like VAC, Python, Big-data, etc. Plus we have some playtime activities such as word puzzle, human knot, etc. under the surveillance of staff.The program was a happy success with the final brief about some upcoming events such as IIRC out search program on Remote sensing & Digital Image Analysis by ISRO, Government of India, "InTech Olympiad" 2018 by Rotary Club, Pune and Spoken Tutorial, IIT Bombay.
Being an actively concerned institution, we nurture both our staff and students so we never miss a chance.
"Don't wait for an opportunity, create it."
Seeing and hearing someone explaining a process greatly improves understanding and so was the Spoken Tutorial Project by IIT Bombay for MHRD, Government of India, aiming at programming languages, office tools, graphics and circuit design tools via. a/v tutorials. Such Faculty Development Programs held at our college for the staff of Computer Science and Engineering. The Spoken Tutorial project is the initiative to the 'Talk to a Teacher' activity of the National Mission on Education through Information and Communication Technology (ICT), launched by the Ministry of Human Resources and Development, Government of India, to popularize software development. This is beneficial for students also that started in 2012 with the help of Ms. Neha Bansal. It provides them training sessions according to which online tests are held to test the skills of students.
Success never settles for less and so do we.
"International Conference"
Regarding the novelty and extension of the scientific fields and ever-growing need to exchange ideas and new approaches, Department of Computer Science and Engineering at BSAEI organized BSACON'15, an International Conference on Recent Trends in Computer and Information Technology Research on 25-26 September, 2015 in association with International Journal of Computing Academic Research, Jordon which aimed to provide forum for researchers and practitioners interested in research. The program was inaugurated by Dr. S.S Tyagi(Director, B. S. A. E. I.), Mr. Tapesh Gupta(Vice-Chairman, B. S. A. E. I.), Dr. A.K Sharma(Dean, PG study and research) followed by honorable Dr. J.P Gupta(Vice-Chancellor, Lingaya's University), Dr. Naseeb Singh Gill(Professor,MDU Rohtak), Dr. M.N Hooda(Director, Bharti Vidyapeeth Delhi) and Dr. Basim Alhadidi(Professor, Albalqa University Jordan). These dignitaries along with their respected staff and a panel of students presented their valuable Research Papers making the conference a perfect hit with some 100+ research papers.
Organized by
Department of Computer Science and Engineering